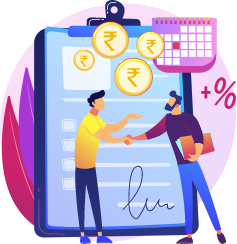 Vridhi Loan is one of the reputed names in the non-banking financial sector, providing personal loans to meet the short-term credit requirements for MSMEs, Salaried and Self-Employed Professionals, and Non-Professionals. We also serve borrowers with no credit history and thin-file individuals. We have multiple schemes which are made available to individuals based on our internal scoring and eligibility criteria. In our digital journey, the installments (daily, weekly and monthly) will be auto-debited from the customer's bank account. This will be enabled by providing provisions for e-mandate registration through net banking and debit card.
At Vridhi Loan, we aim to empower people to stay ahead in life and business, and in the process, we ensure our business can achieve success through available resources and people we are associated with. At every step, we deliver simple, straightforward, and good-value products designed to meet our customers' varied and urgent financial needs. Today, we are striving hard to grow to become India's most recommended financial institution to make people smile a thousand smiles.
Vridhi Loans is a product of Paul Merchants Finance P. Ltd., a registered Non-Banking Financial Company (NBFC) that offers personal loans to individuals and small businesses. Paul Merchants Finance P. Ltd. is a fully owned subsidiary of Paul Merchants Ltd, a BSE listed company and one of the most reputed names in the non-banking finance sector.